The Sprawls Resources
for Study, Review, Reference and Teaching
Physics and Technology for Effective and Safe Medical Imaging
in the context of the
Sprawls Global Collaborative Teaching Network
Visuals, Guides, and References
for classroom/conference discussions


Modules and References
to be used during clinical activities


Guides and Resources
for individual and small group learning activities

 
 Perry Sprawls, Ph.D.
sprawls@emory.edu


Distinguished Emeritus Professor
Department of Radiology Emory University School of Medicine
Atlanta, GA, USA
Co-Director
College on Medical Physics
International Centre of Theoretical Physics
Trieste, Italy
Sprawls Educational Foundation
Montreat, NC, USA
Introduction 
Medical imaging and the practice of radiology is a major source of diagnostic information and is required for guiding and monitoring many therapeutic procedures. Most clinical facilities now have a complementary selection of imaging modalities and methods with each contributing specific capabilities and values to the diagnostic process.
With the advances in medical imaging technology and methods the procedures have become more complex and their maximum value requires a clinical team (radiologists, technologists/radiographers, and medical physicists) with the knowledge and experience to conduct the imaging procedures.
The significant knowledge needs include:
Image Quality Characteristics that affect visibility of anatomical structures and signs of pathology (Contrast, Detail, Noise, Spatial, and Artifacts).

The ability to Evaluate Clinical Images with respect to their image quality characteristics.

Image characteristics as determined by the Principles and Design of the specific imaging modalities and methods (Radiography, Fluoroscopy, CT, MRI, Ultrasound, and Radionuclide Imaging).

Optimization of Imaging Procedures with respect to visibility requirements, risk, and image acquisition time.
Learning the physics of medical imaging is a continuing and progressive process that uses a series of learning activities as illustrated here. Each activity has its values and limitations.
Our objective is to provide resources to enrich each type of learning activity and to enhance human performance of both learners (students) and learning facilitators (teachers).
The World Wide Web is highly valuable tool for connecting and sharing knowledge and resources. It provides the foundation and infrastructure for the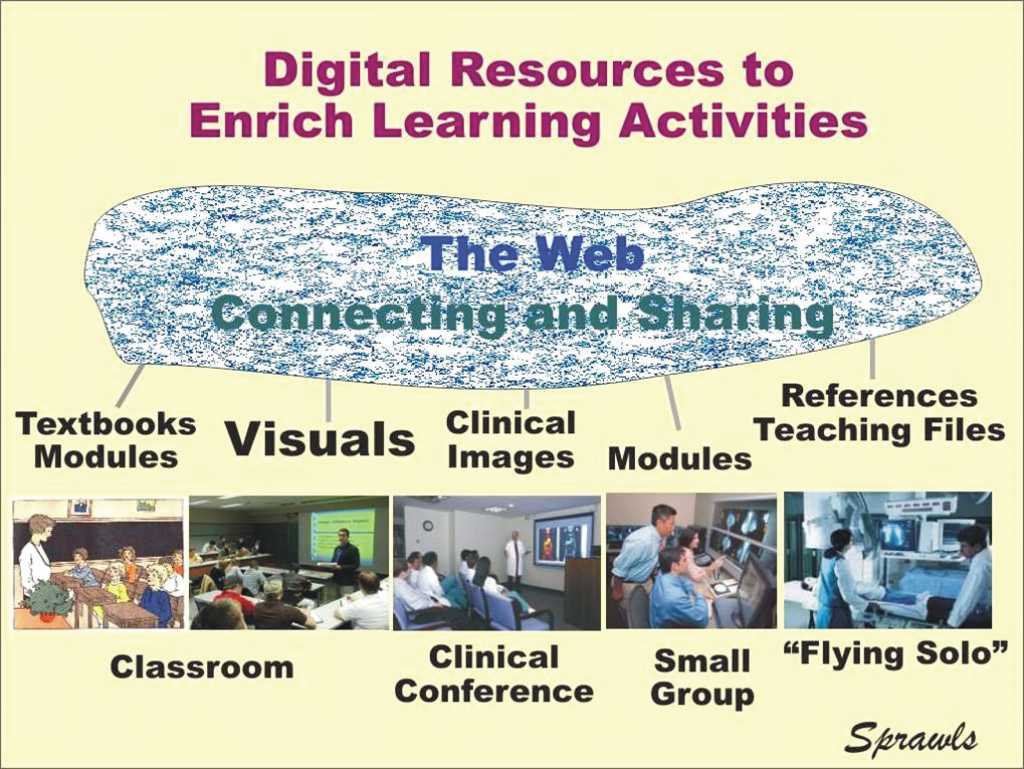 Sprawls Global Collaborative Teaching Network
Learning physics is a natural human process by which a person can observe and interact with parts of the physical universe, such as x-radiation, and having an experienced physicist guiding the activity.
Teaching is the process of helping someone learn. There are typically two components of teaching. One is providing connections to the physical universe through which someone can observe, interact, and study. The other is organizing and guiding the learning activity and enhancing it with one's personal knowledge, experience, and insight. Collaborative teaching is when these two functions are provided by two or more persons (teachers), each providing a significant contribution to the learning activity.
The Sprawls Resources is a collection of educational materials developed to connect the learner to the physical universe associated with the various medical imaging methods in class and conference sessions, collaborative group activities, and for individual study.
Medical physics educators (teachers) in local institutions use the resources, especially the visuals and textbooks to enhance their teaching activities.
----That is collaborative teaching ----

  The Sprawls Resources are open access and available to all at no cost.
Online Textbooks
The Physical Principles of Medical Imaging, 2nd Edition
A comprehensive textbook covering the physics and
physical principles of all imaging modalities.
e-book available online at
http://www.sprawls.org/ppmi2
Magnetic Resonance Imaging: Principles, Methods, and Techniques
A complete, easy to understand, coverage of what everyone who works
with MRI needs to know about the MRI process.
e-book available online at
http://www.sprawls.org/mripmt/

Printed text available for purchase
from Medical Physics Publishing,  http://www.medicalphysics.org

---
For each topic there are the following items as they become available.
| | | | | | |
| --- | --- | --- | --- | --- | --- |
| Outline | Mind Map | Learning Objectives | Visuals for Class & Conference | Online Module | Textbook |
Items are being added as they are prepared for the web.  When an item is added, it will be linked from the following Table of Contents.
  When an item is highlighted and the text appears in blue, click on it and you will be taken to the appropriate material.
Online Modules are being added first for topics that are not completely covered in the text references.
A priority is adding   Visuals   for educators and group discussions.
Table of Contents
GENERAL MEDICAL IMAGING TOPICS
RADIATION FOR IMAGING
RADIOGRAPHY and MAMMOGRAPHY
FLUOROSCOPY
COMPUTED TOMOGRAPHY
ULTRASOUND
RADIONUCLIDE IMAGING
MAGNETIC RESONANCE IMAGING

---
GENERAL MEDICAL IMAGING TOPICS
Medical Image Characteristics and Quality Factors

Blurring, Visibility of Detail, and Resolution
Digital Image Structure and Characteristics

Digital Image Distribution and Networks

| | | | | | |
| --- | --- | --- | --- | --- | --- |
| Outline | Mind Map | Objectives and Problems | | | Text Reference |

Digital Image Storage and Archiving

| | | | | | |
| --- | --- | --- | --- | --- | --- |
| Outline | Mind Map | Objectives and Problems | | | Text Reference |

Characteristics of Radiation and Energy used for Imaging

Statistics of Radiation Events

| | | | | | |
| --- | --- | --- | --- | --- | --- |
| | Mind Map | | Visuals for Discussion | Online Module | |

Characteristics and Structure of Matter

Interactions of Radiation with Matter

Radiation Attenuation and Penetration

Radiation Quantities and Units

Personnel Exposure, Radiation Safety, and Risk Management

| | | | | | |
| --- | --- | --- | --- | --- | --- |
| Outline | Mind Map | Objectives and Problems | Visuals for Discussion | Online Module | Text Reference |

Measurement of Radiation

| | | | | | |
| --- | --- | --- | --- | --- | --- |
| Outline | Mind Map | Objectives and Problems | Visuals for Discussion | Online Module | Text Reference |
X-ray Image Formation and Contrast

| | | | | | |
| --- | --- | --- | --- | --- | --- |
| | Mind Map | | | Online Module | Text Reference |

Scattered Radiation and Contrast

| | | | | | |
| --- | --- | --- | --- | --- | --- |
| | Mind Map | | | Online Module | Text Reference |

Radiographic Receptor Characteristics

| | | | | | |
| --- | --- | --- | --- | --- | --- |
| Outline | Mind Map | | | Online Module | |

Film Image Recording and Processing

Film Contrast Characteristics

Digital Radiographic Systems

Radiographic Detail

| | | | | | |
| --- | --- | --- | --- | --- | --- |
| | Mind Map | | | Online Module | Text Reference |

Patient Exposure and Dose Management

Fluoroscopic Imaging Systems

| | | | | | |
| --- | --- | --- | --- | --- | --- |
| Outline | Mind Map | | Visuals for Discussion | Online Module | Text Reference |

Fluoroscopic Exposure and Dose Management

| | | | | | |
| --- | --- | --- | --- | --- | --- |
| Outline | Mind Map | Objectives and Problems | Visuals for Discussion | Online Module | Text Reference |

Computed Tomography Image Formation

Computed Tomography Image Quality and Dose Management
Ultrasound Production and Interactions

Ultrasound Imaging

| | | | | | |
| --- | --- | --- | --- | --- | --- |
| Outline | Mind Map | Objectives and Problems | | Online Module | |